Talisman - Sammy Figueroa & Glaucia Nasser


EPK - "TALISMAN" Sammy Figueroa & Glaucia Nasser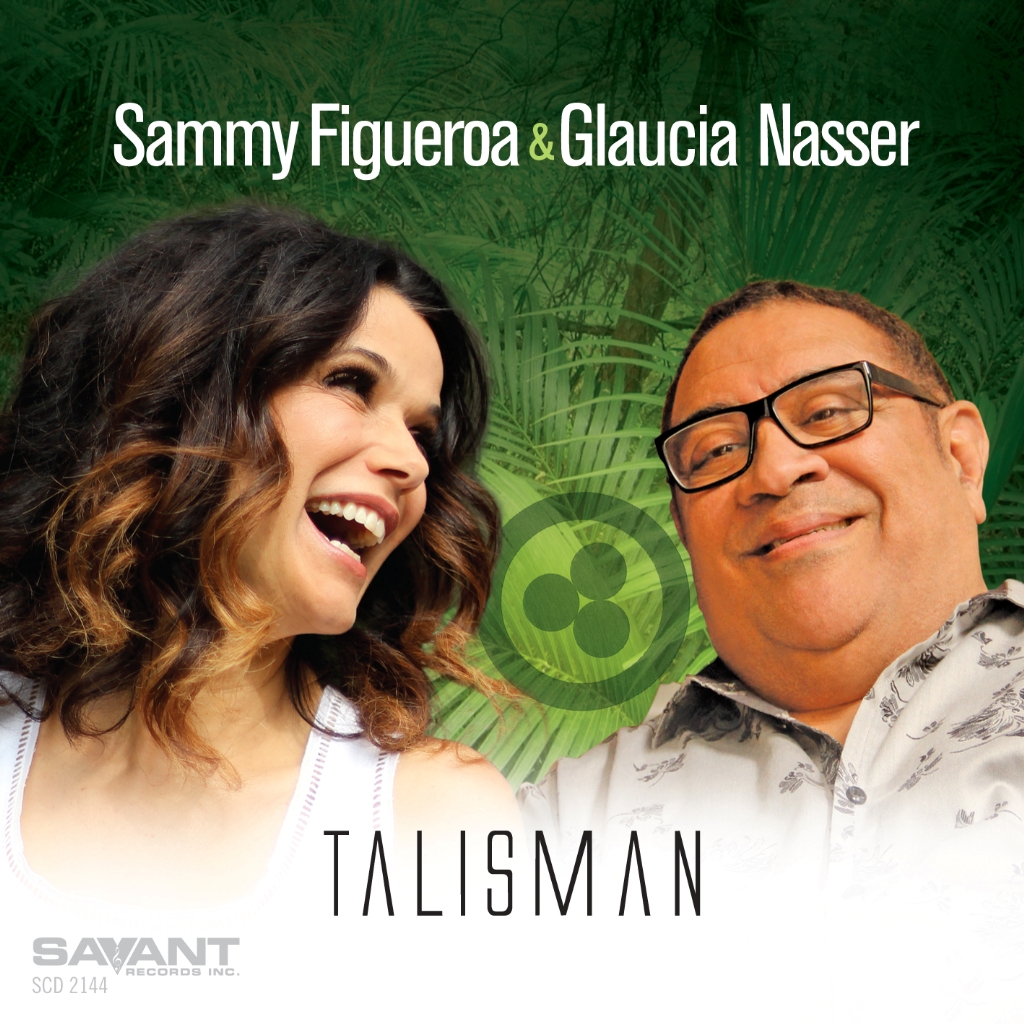 "Talisman" featuring Sammy Figueroa and Glaucia Nasser, is a perfect balance between the exciting Latin percussion of double Grammy nominee and renowned musician Sammy Figueroa (Miles Davis, Sonny Rollins, David Bowie, Mariah Carey and many more) and Brazilian singer Glaucia Nasser. "Like peanut butter and chocolate" thi
s combination of Brazilian song and Latin percussion comes out as a surprising and tasty combination.

The album, which was
produced by famed Latin record producer Rachel Faro, will be out on September 9th on Savant Records (High Note). Publicity will be supported by RockPaperScissors, and Michael Hurzon will be promoting it to Jazz Radio.

Glaucia's past concerts promoted by Miami's WDNA 88.9FM radio station, enchanted Sammy, who decided to start a unique and unprecedented partnership with the singer, which has resulted in this exciting album. This work also carries an important symbolism since it has received the backing of the legendary pr
oducer and engineer Roy Cicala, shortly before he passed away. Roy, a master of sound with ten platinum albums to , and who has worked with John Lennon, Jimi Hendrix, Aretha Franklin, Frank Sinatra and Bruce Springsteen, became interested in the project. He offered his studio and his cooperation for the recording.

Percussionist Sammy Figueroa is considered one of the world's great musici
an
s. In a career s
panning over thirty years he has played with Miles Davis, Sonny Rollins, the Brecker Brothers, Mariah Car
ey, David Bowie, John McLaughlin, Arturo Sandoval, Paquito D'Rivera, Chaka Khan, Blues Traveler, Ashford and Simpson, Natalie Merch
ant and countless others. He has also co-produced several albums, most notabl
y the Cuban a cappella group Vocal Sampling.

His other group, Sammy
Figueroa and his Latin Jazz
Explosion, is one of the most exciting in jazz today. Known for their exciting performances, enhanced by Sammy's ebullient humor , the band has recorded three albums, with two of them nominated for the Grammy for Best Latin Jazz Album.

Glaucia has garnered critical praise from notable names of Brazilian music such as Nelson Motta, Roberto Menescal, and Ivan Lins. Glaucia's four previous albums have been extremely well received by the media and fans alike. Her extensive concerts and world tours have built a fantastic following.



EPK - "TALISMAN" Sammy Figueroa & Glaucia Nasser
Quando Eu Canto

E Quando Quero

Encontro

Publicist: Rock Paper Scissors



Artist Websites
www.sammyfigueroa.com



http://en.glaucianasser.com.br/


Liner Notes

Talisman means good luck charm, amulet, a symbol with magical powers. We chose Nicolas Roerich's Banner of Peace symbol as our talisman because, among other things, it symbolizes the three of us, Sammy, Glaucia and Rachel, who had the good luck to come together to make magic in the recording studio.

This album has a simple concept: a balance of Latin percussion (Sammy) and Brazilian song (Glaucia). Sammy is an incredibly inventive and skilled musician. Many years of playing all genres from bebop to Latin to rock prepared him for the Brazilian flow and feel. As the arrangements unfolded spontaneously, his introduction of percussion elements such as Cuban 6/8 bata, Puero Rican bomba and plena and Uruguayan candombe were easily picked up by the Brazilian musicians in joyful musical interplay.

Glaucia Nasser, who sometimes refers to herself as a 'farm girl', is from Minas Gerais, Brazil's rich agricultural heartland. Her style of singing is straight out the Minas tradition developed by Clara Nunes, her primary inspiration, and fulfilled by Milton Nascimiento. In this recording her pure vocal approach provides a fitting contrast to the complex and energetic rhythms of Sammy and the band.

We are honored to have the beautiful composer/pianist Bianca Gismonti and Chico Pinheiro, one of today's most exciting young guitar players. Less well-known but equally extraordinary bassist Fernando Rosa, virtuoso pandeiro player Bernardo Aguiar, guitarist Michi Ruschitska and Brazilian percussionist Chrystian Galante each brought something special to this musical gathering.

We recorded the basics at NaCena Studios , a large wooden-walled room just like the old New York studios from 'back in the day'. But the biggest surprise was when we found that an old friend of Sammy's, Roy Cicala, the engineer on recordings such as John Lennon's 'Imagine' and Bruce Springsteen's 'Born To Run' was living in Sao Paolo and had built a studio. After many phone conversations, where Roy insisted that we record the vocals at his place, Sammy realized that Roy was very ill, the big C. In January 2014 we bought our air tickets to Sao Paolo with plans to record the vocals with Roy. About twelve hours later we got the word: Roy was gone. With full hearts, we returned to Sao Paolo where recorded the vocals in his studio with his disciple, Eduardo Marson. The sessions were profound: recording through the same Neve console on which he'd mixed 'Imagine' and so many other recordings, it felt as if Roy was just about to walk in the room, as if his spirit was in the wires. The resulting sound is unparalleled.

Everyone involved with this recording has felt it was special. We all share the same sense that music is what lifts us up, softens the hardened heart and brings about peace and unity. We hope that this good luck charm, this musical talisman will create the same magic for you as it has for those who created it.

Notes by Rachel Faro